Tuesday, July 31st, 2018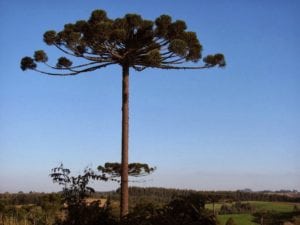 The pinheiro tree (a type of araucaria) grows here in the state of Paraná and is a beautiful and majestic testimony of the diverse marvels of our Creator. This tree reaches heights of 40 meters (130 feet) and the impressive span of the branches often extend nearly in width what it grows in height. It has an umbrella-type of appearance, yet some others form what appears to be a candelabra-type top. 2400 tons of pinhão (much like a large pine nut) are harvested every year and Brazilians roast or boil as an exceptional treat. A healthy tree grows large and broad and can be identified on hills several miles away.
Wouldn't it stand to reason that a believer who continues in the faith for many years, could be seen as one whose life reaches outward to cover and protect those around him? And that their way of following God would be difficult to miss? Shouldn't their fruits provide hope and light that bless their community? Husbands and fathers ought to be examples filled with a genuine joy that spills over into the lives of their sons and daughters and their homes are a safe haven that their families can feel loved and properly cared for.
If you are a healthy believer, and your source of joy is a result of the Spirit's dwelling and proving God's will in you, then we are beginning to live as Christ taught. And then the church can be the body of Christ that it was always intended to be. Otherwise, we need to get on our faces and seek God until our lives are truly changed!